Let's just be honest – lockdown and WFH has made us all a little lazy! With nowhere to go and stress eating most of the time, a lot of people have lost track of their health and fitness!
Well, if you are also someone who is thinking of getting back in shape and saying goodbye to your food babies, then having a smartwatch can be really helpful in achieving your fitness goals! Not only do they track your routine but also give you data to make it better and efficient for better results!
Here's a list of 7 such best smartwatches that can accompany you on your journey to a healthy body:
1. boAt Watch Xplorer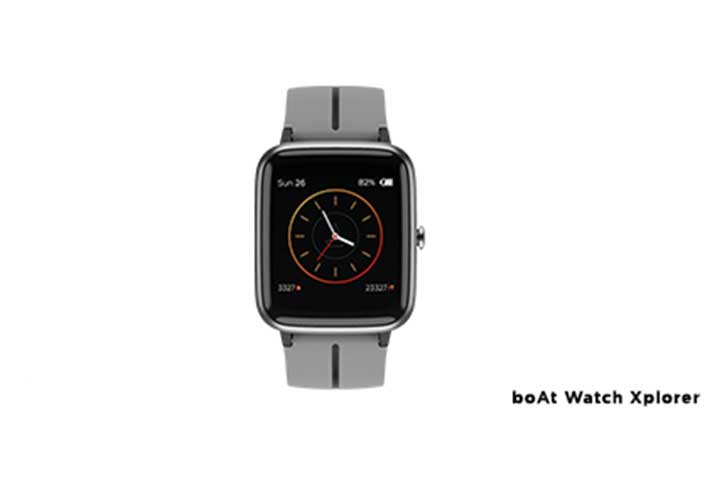 If you are dedicated towards having and maintaining a fit and fabulous body then this smart watch can be your fitness guide and companion! Designed with a 1.3" TFT colorful screen, this smartwatch comes with many interesting features that make your workout fun and effective!
You can count on its sports modes (which include activities like indoor running, outdoor walking, hiking, yoga, open swimming and much more) to get a detailed analysis of your activities. Apart from counting your steps taken, distance covered and calories burned, this watch also gives you reminders to stand up and walk around if you have been sitting for too long! You can even set some targets for everyday and the watch will remind you to achieve them – in a way motivating you to meet your fitness goals! You can even access a stopwatch on your wrist and count the number of minutes while you hold that plank!
It comes with a 5ATM rating which ensures that you can take it for a dip without worrying about ruining your favorite gadget!
All of these features make it one of the best smartwatches in this range!
2. GOQii Vital 3.0
When it comes to health & fitness, this smart fitness watch knows the best! Approved as a registered medical device by Central Drugs and Standard Control Organization (CDSCO) and is certified under 3 grades by International Organization for Standardization (ISO), this smartwatch is loaded with many features that can help optimize your workout!
From tracking your daily activities like steps, distance, calories burned, Active time, this smartwatch also measures body Temperature and Blood Pressure. The fact that it monitors your 24*7, it helps you find a sweet exercise spot! It's Multiple Exercise Modes help you keep a track of activities and you can use the data to make it better!
Also Read: Touch Screens For Your Business. Which One Do You Prefer?
3. Soundpeats Watch
Workout in style with this versatile smartwatch! Packed with many interesting features, this smartwatch can really come handy in maintaining a healthy lifestyle! It not only accurately records your steps, distance walked, calories burnt and heart rate but also motivates you to reach your exercise goal with real-time statistics on the watch! It also supports extra 12 sports modes (which include jogging, biking, yoga and so on..) to help you track your other exercise patterns. The fact that it is rated IP68, don't bother yourself to take it off your wrist while you are drenched in sweat while burning those extra calories!
4. Amazfit Bip S
If losing weight and keeping it off is on your agenda, then this smart fitness watch should definitely be on your wrist! Weighing only around 31grams, this watch is comfortable to wear! It sports a 1.28″ always-on transflective color display of 176×176-pixel resolution. It features a real-time heart rate monitor along with a step counter and sleep tracking feature. The 10 sports modes allow you to track your activities like treadmill, walking, cycling, and more..
The Amazfit Bip S is waterproof to 50 meters. You can wear it while swimming, and also record interesting swimming data, including stroke rate, stroke times, SWOLF index, tracks in open waters, etc.
It also comes with incoming calls and app notification alerts. The smartwatch allows you to reject or mute an incoming call, so that nothing comes in between you and your workout!
5. Noisefit Endure
Sturdy & Sporty, this smart fitness watch comes loaded with features that will ensure that you don't miss out on your fitness goals! Purposefully designed to be lightweight, while retaining robust and rugged aesthetics, this watch will sit comfortably on your wrist.
Get reports on your workout performance with 9 sports modes designed to track your progress across multiple fitness regimes. Your personal health monitor, it comes with a 24/7 dynamic heart rate check, calorie tracking and sleep assistance. Its Breathe Mode allows you to calm your nerves via guided deep breathing. Overall, it ensures that you get detailed analyses of your effort during workouts!
The fact that it's IP68 certified, carry it along without any worries as you go for a jog in the drizzle, or sweat it out at your local fitness centre!
It can sustain for 20 days on full charge – and an additional 30 days on standby!
So get your smartwatch now and say goodbye to excuses and start on your enjoy to a fit you!
Also Read: Gadgets In E-shops: When An E-shop Knows Exactly What You Want